Our Work for Five Stone Tax Advisers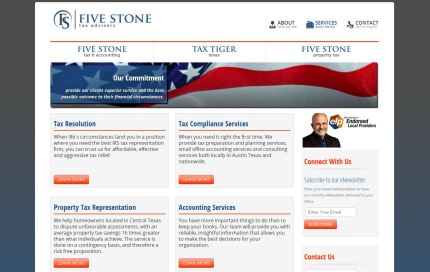 Five Stone Tax Advisers turned to Rock Media to launch their on-line presence. They required a multi-company site that provided for integrated design standards while allowing each of their individual businesses to connect and communicate with their clients, respectively. They wanted to ensure their site was device agnostic and mobile optimized to take advantage of the growing mobile browsing trend.
Rock Media delivered a custom HTML5, CSS3, Mobile Optimized site built on a custom WordPress CMS back-end. The site allows each of their businesses to connect and communicate with their clients individually, while aggregating site traffic to assist in organic SEO scoring. They also are able to cross promote their other business services effectively and track their internal referrals. The site is structured to grow with their business allowing them to ability to expand within their individual businesses and add on additional businesses as needed.