Our Work for Red Page Ministries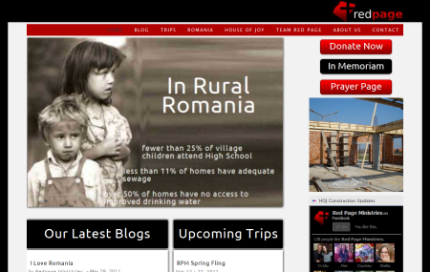 A new Texas based non-profit, Red Page needed to develop it's on-line brand to promote its work in rural Romania and engage donors.
We took on the challenge of building a ground up brand for Red Page. They are a small ministry that needed to have a on-line brand that made a big impact. They needed a place for current and future donors to keep updated on their ministry. They wanted resources for prospective and current trip participants to become engaged and to engage others. Their on-line brand also needed to extend to social media pages for Twitter and Facebook. Finally they needed a turn key solution for their corporate email, calendaring and on-line document sharing.
We developed a customized CSS and HTML5 site that addressed all their needs, including setting up multiple blog resources and individual fund-raising pages for trip participants. We integrated it all together with their social media sites and ensured everything worked seamlessly on desktop and mobile clients. And finally, we provided them with an exchange based productivity suite that supports both desktop and mobile clients.